Yes, you read that right. I'm about to give you advice about how to succeed without having a job myself.
If I learned anything from my college experience, it was that the degree you earn isn't your ticket to a career or job. I graduated at the end of April with a Bachelor of Arts degree in Public Relations from Simpson College. It is now almost two-months to the day since I walked across that stage, and I'm still jobless.
Although I'm definitely feeling the pressure to get a consistent income to pay the bills, I'm also excited about the upcoming months of my professional life.
Before graduation, I'd been in contact with a handful of successful alumnae from Simpson in both Marketing/Public Relations and the Sports industry. Since then, I've remained in contact with those mentors, but I've also made several more local connections that I hope will prove helpful in the beginning of my professional career.
The following five things are what I've learned in the last year, in no particular order. They are things that have helped me so far and I think all young professionals should keep in mind to succeed.
Don't get discouraged by rejection
I thought I was getting ahead during my last year of college by applying to a ton of places (around the country) earlier than most of my peers. All I got back from those applications were rejection emails and calls.
Since then, I've applied to twice as many positions and heard back from about 10 of them to send them writing samples or schedule an interview. The hardest part of the process is waiting to hear back from a company about your application, samples or interview.
Regardless of what you hear back from a company, don't get discouraged. You are one out of (at least) a handful of just as qualified applicants. You may be the best applicant in your mind, but you can't know who else applied and what experiences they've had. The company will do what's in their best interest.
More often than not, that's not you (or me).
Utilize your connections/network
Whether its through LinkedIn, professors, alumni organizations or other mentorship programs, your connections will define your success in the beginning of your professional career, especially in the sports industry.
I was lucky enough to be a part of a social fraternity (Lambda Chi Alpha) during college, which gave be hundreds of thousands of connections worldwide. Aside from that, I had former supervisors and professors that have served as references and written my letters of recommendation as I applied for jobs in the industry they work in.
I'm currently a stadium operations intern with the Iowa Cubs (AAA-Affiliate of the            Chicago Cubs). As one of the 22 interns selected from 100+ applicants, I didn't have            to apply or interview. I was able to impress my boss enough when I worked there              last summer in the parking lot that he asked me to work in the stadium this season.          To me, this was a huge accomplishment. Although there are no full-time positions              open currently, I feel confident that my experience at the stadium will help me                  down the road with a career in sports.
Currently, I'm utilizing a connection I made (while working for the Iowa Cubs) to              develop myself professionally and continue my job search. By making a good first              impression on this mentor, I've been able to confide in him and he's helping me by            using his connections in the community to put in a good word about me to potential          employers.
Step outside of your comfort zone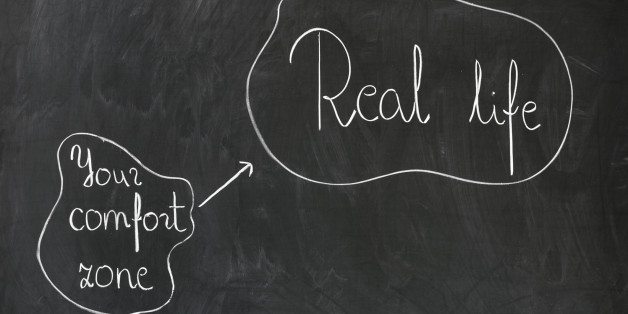 Nothing overly good every happens to people who wait around to wait for change to come to them. Nothing in life will get any better by just waiting for it to happen. For you to become happy, find a job, meet a companion or just become a better person, you'll have to step outside of your box.
For me, this realization occurred when I was interviewing for a job just last week. I was asked what my greatest weakness is. It's something I'd thought about (knowing a lot of interviewers ask it), but didn't think about it in this way until very recently. My answer was that I'm not really a people-person. It's tough to be a good communicator for a company (as a PR person) without enjoying people and having conversations with strangers all the time.
My comfort zone was not talking to strangers, meeting new people (unless required) and having minimal conversation/small talk. To be successful, I've discovered that I'll need to become more outgoing and extroverted in my professional life. Meeting new people leads to new connections which can led to new opportunities.
Follow your passions, but not always
Nothing beats loving what you do. Nothing.
If you're passionate about sports, apply to every sports job you can find.
If you're passionate about politics, contact every campaign manager to see where you could help.
Without passion, work is less enjoyable. Without passion, you're just working for a paycheck, not a purpose. When you love what you do, and you're doing what you love, great things will happen.
The tip here is not to just follow your passion, but also to stay grounded.
Passion is one of the most important things in any profession. For now, when you're looking for that foot in the door, your first real job, don't be too picky.
If your passion is sports, but there are no jobs in a stadium or directly with a team, consider taking an entry level sales job to get your foot in the door with the management.
If you're passionate about politics, but you have no experience in campaign management, consider taking a job in promotions or marketing for a candidate to get yourself into the industry.
Sometimes it's not a bad thing to sacrifice your passion early in your career (without losing sight of your end goal) to make your way up the ladder in a company/industry you're passionate about.
Always thank people for their time
This should go without saying, but no matter who is helping you, taking time to interview you, or just give you advice, thank them. They're doing it to help you, as a young professional. A lot of people didn't get the help you're asking for, so they're more than willing to help when asked.
One thank you goes a long way. Whether its a quick; "thanks for meeting up for coffee and advice" email, or a handwritten thank you note following an interview (whether you get a job offer or not), a thank you will set you apart from the rest of the competition.
It might even make a hiring manager reconsider if they're choosing another candidate.